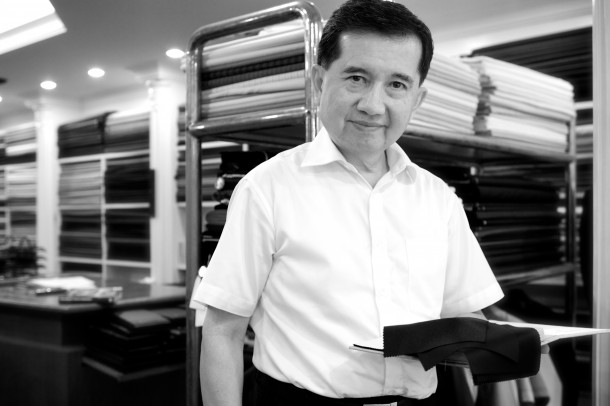 Founder of Justmen's Shop aka Justmen Tailor
Year 2016 – 2020:

Chief Financial Officer of the World Federation of Master Tailors (WFMT)

Year 2015 – present:

President of The Selangor & Federal Territory Tailors' Guild
President of The Federation of Tailors Guild Malaysia

Year 2013 – 2015:

President of The Selangor & Federal Territory Tailors' Guild
General Secretary of The Federation of Tailors Guild Malaysia

Year 2010 – 2013:

Judge of coat fitting competition in 23rd Federation of Master Tailors (FAMT), 24th FAMT and 35th WFMT
BACKGROUND
John Wee is the founder of Justmen's Shop. With more than forty years of experience in tailoring services, John Wee knows what is best for you! From getting the right measurement, sketching designs, to cutting and sewing custom made garment, he is undoubtedly a very experienced and skilled tailor.

John Wee is able to provide you with the best advice for your garment from fabric and design selection, to style and fitting adjustments. John has been attending conferences held by the World Congress of Masters Tailors and the Federation of Asian Master Tailors in various countries.
John Wee has been actively participating in the activities of major tailoring association, such as World Congress of Federation of Master Tailors (WFMT) and Federation of Asian Master Tailors (FAMT). He keeps himself updated with the current trends, latest techniques, materials used and recent popular designs. In recent years, he was honored to represent Malaysia as the judge of coat fitting competition in 23rd FAMT, 24th FAMT, 35th WFMT.
In August 2014, John Wee is granted the Lifetime Achievement Award in 25th Congress of the Federation of Asian Master Tailors held in Kobe, Japan. "It was the greatest acknowledgment after so many years and efforts spent," John Wee said in glad.
Operations Manager, Experienced Tailor
Henry Wee has over 35 years of experience in tailoring. He is responsible for the distribution of tasks in the process of tailoring. He ensures that the tailoring process run smoothly and see to it till the completion of all our suits and garments. He knows how to deliver our products in the shortest possible time without compromising the quality.
Co-founder, Experienced Tailor
Jeffrey Wee's passion for suit-making is unquestionable. Often described as an ambitious man, Jeffrey has 35 years of experience in the tailoring. His eye for details has received many praises and compliments from our returning customers. It is no surprise that Jeffrey is often referred to by fashion designers and menswear specialist for his exceptional tailoring skill and service.
Textile Consultant
Growing up in a family of tailors, Tze Lih was exposed to the many aspects of suit-making and tailoring at a very young age. She was intrigued by the specific processes of suit-making and was particularly attracted to fabrics. Tze Lih has taken a deep interest to learn and equip herself with knowledge of tailoring and latest trends.