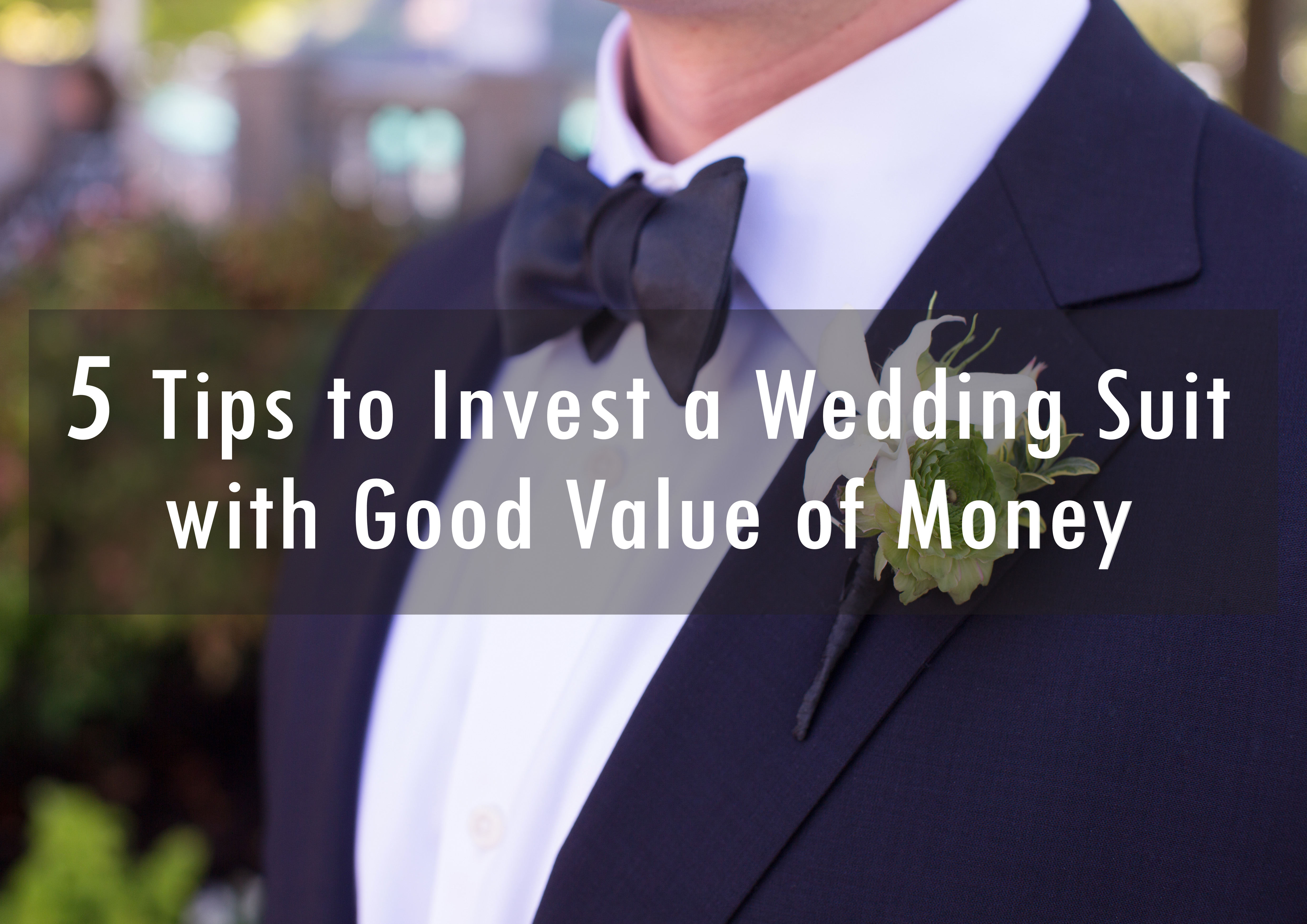 Wedding is not only about women's matters. Men, in fact, should customise your wedding suit (more than your lady should!) because it's definitely worth the money as the suit can be used again and again in future. Here we offer you some useful tips to invest nice piece of suit that worth every penny you spend.
1. Tailor-made a classic, well fitted wedding suit
Attend to your local tailor shop and order piece of wedding suit malaysia! Maybe this is your first ever tailor-made suit, so stick to the basic yet elegant classic style that you will never go wrong with it. Avoid choosing over fancy style that you could only wear once. How to stand out on that day? Get yourself nicely groom, bold with accessories: cufflinks, watch and leather shoes! With classic and well fitted suit, you will definitely the most stunning gentleman in hall.
2. Tuxedo / Black Suit
To look formal and elegant, you can choose to invest a pair of tuxedo suit, suit with black or dark in color. Tuxedo is usually paired with dinner white shirt. The slight touch of satin on shawl or peak lapel and buttons significantly portraits the formality and elegance of a man. Tuxedo suit can be used in future to attend company annual dinner or black tie event.
If price is your concern, why not the black suit? And don't forget to pair with fine cotton white shirt and a tie for your big day. Also, black suit is more versatile as you could pair with other shirts to attend other formal occasions.
3. Choose fabrics with decent quality
In Malaysia, pick a good quality light weighted wool to be your suiting material. Wool is natural fibers hence it could breathes easily, do not trap heat hence leading the cooling effect which is just perfect in tropical country. Wool looks fabulous as suit fabrics and durable to wear. Opt for some prestigious brand Ermenegildo Zegna, Holland & Sherry, Trabaldo Togna and you will never regret on its suiting quality: soft, comfortable and exclusively elegant.
4. Proper care
Spend a little efforts on taking care your suit. For frequent user, it's more advisable to changing your suits alternatively. Do not fold and hang it properly when not in use to let your suit rest and breath. Find yourself a good dry clean service to handle your suit professionally. And remember, only dry clean after several uses as frequent cleaning might season the suit.
5. Constantly keep your body in good shape
Do not faith out after marriage! Always keep a healthy diet and workout routine to maintain good body shape. Fluctuating body weight not only affecting your outlook, but your wallet as well as you have to spend more on new outfits.
Remember, a classic wedding suit have the magical power turning you into an elegant gentleman. Occasionally used suit with proper care could last up to 8 years. Keep these useful tips on mind, you will know what to do to order a pair of wedding suit with good value of money that you could use over years.
We are happy to assist you in your wedding suit malaysia making! Fill up the form for suit quotation at here: http://www.jms.my/contact-us/
Like this post
10